You are invited to gather for a presentation from and conversation with Katherine Parker, who is a missionary in Nepal that both St. Peter's UMC and First UMC of Bellevue have sponsored.
What: Katherine Parker, Missionary in Nepal
Where: St. Peter's UMC
When: Saturday, Sept. 23 at 2pm (followed by an ice-cream social)
Details:
Katherine Parker is a missionary with the General Board of Global Ministries of The United Methodist Church, working in community development in Nepal. She serves as a Monitoring, Evaluation, Accountability and Learning (MEAL) Advisor with the United Mission to Nepal (UMN).
Katherine's work in Nepal involves the development of frameworks for reflection in an action-reflection process of community transformation. The UMN work in community transformation is in five areas: education, health, peacebuilding, good governance and sustainable livelihoods. Katherine has found joy in:
Adolescent empowerment, including sexual reproductive health and rights, mental health, and menstrual hygiene;
Dignity for migrant workers; and
Water, sanitation, and hygiene (WASH).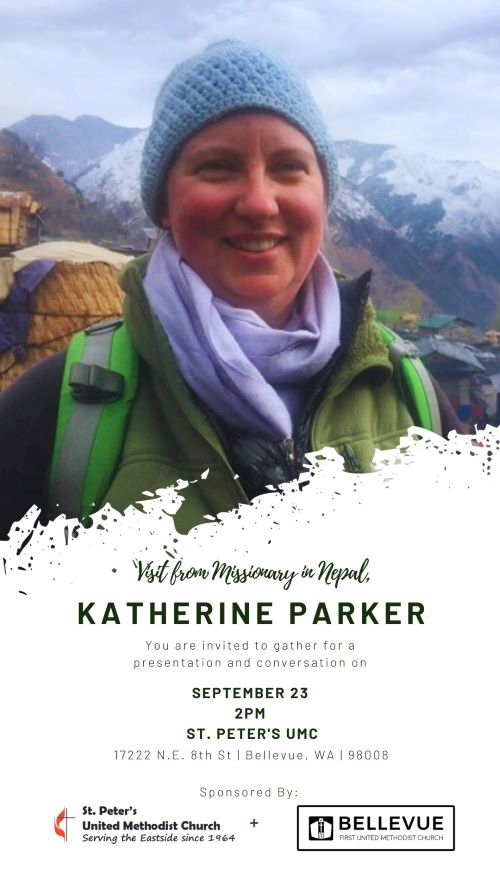 Katherine was previously based in one of UMN's field offices in western Nepal and now works in participatory research across the organization from a base in Kathmandu, where she is also a part of the UMN leadership team. Katherine is passionate about the process of linking values to action. She believes in telling the stories of our lives and exploring the stories of our faith. 
Native to California, Katherine comes from a family with deep roots in United Methodism on the U.S. West Coast. From a young age, Katherine saw the church as a community of faith where we are spiritually fed so that we can serve in the world. She is the fifth generation in her family to serve through the United Methodist connection.