Beginning in September, we will (along with First UMC of Bellevue) begin a year-long series entitled "We Make the Road by Walking." This series, based on a book by Brian McLaren, will be the basis for a congregational-wide worship/ small group/ personal devotional experience. In this, each person or household is invited or encouraged to obtain a copy of the book (see below) and to commit to the weekly readings (one short chapter per week) and hopefully join in a small discussion group.
The over-arching themes of this year will be "Aliveness" and "Formation" In this, we will look at how we are still alive and how God is calling each of us (and all of us together) to learn, change and grow.
You will be able to obtain a book (We Make the Road by Walking by Brian McLaren) in several ways. There will be copies available at the church beginning Sunday, August 20 for $12 each. If you are in a position to donate a little extra, this will allow us to make sure everyone (including church visitors) has a book. You can also order the book from Amazon, Barnes & Noble or any other online book-seller. Or if you have a favorite independent book store that you'd like to support, order it through them! However you get a book, try to have one by September!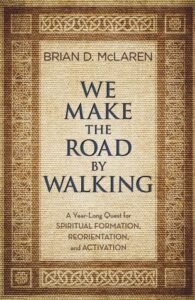 Each week, there will be multiple options for everyone to participate in a small-group discussion. These small groups will be a cooperative offering by St. Peters UMC and First UMC of Bellevue so you can find one that fits your schedule! There will be an in-person group at each church every week and an evening Zoom offering mid-week. See our calendar for days and times. Look for "Small Group" listing.
Each of these small groups will need a co-facilitator so please be willing to help host a small group if asked. Also, you are invited to host your own small discussion group if none of the three options fits your schedule. The book is designed to make it easy to engage in discussions so you don't need Rev. Rich around to have a discussion.
The beauty of this book, apart from its focus on spiritual formation, reorientation and activation, is that the chapters align perfectly with our Christian calendar! As we journey through the chapters, they will coincide with Advent, Christmas, Lent and Easter. The worship services will add another dimension to what we are learning and engaging with each week.
Please watch your mailbox and email inbox for additional announcements and information!